Turn audio player OFF/ON (small bar above)
Home
Jazz encyclopedias list John Handy as an alto saxophonist who also plays tenor and baritone saxophone, saxello, clarinet, oboe, and vocals. He is actually a consummate world musician and teacher who has devoted his life to using music to elevate the human spirit.

His soulful and fiery saxophone style is instantly recognizable to generations of jazz fans world-wide.
Photo by Stuart Brinin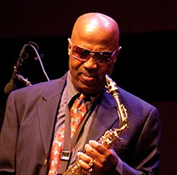 As a performer and composer he continues to sweep audiences into ecstasy with his vast range of creative, emotional, and technical inventiveness. With a superb knowledge and practical experience with music of several cultures, he fuses, with each selection, a musical genre that is coherent, provocative, logical, and enjoyable.
As a singer, he brings a kind of storytelling narrative to the blues that is entertaining, educational, and moving; while his "up tempo" scat vocals could be compared to the best scat singers anywhere. He sings ballads with inventiveness that is rare among singers.
"One of the most innovative and visionary altoists in the post-bop era" SF JAZZ
"John Handy is living jazz history." San Francisco Chronicle
"Whenever I want to know what's going to happen next in jazz I say 'What's John Handy doing?" Dianthe &"Dee" Spencer, Director, San Francisco State University School of Music and Dance.